The all-new KTool mobile app: send articles to Kindle on smartphone
📣 Introducing the all-new KTool mobile app
The previous KTool iOS extension has a subpar UX and was limited to Mobile Safari only.
I'm excited to share that the new mobile app is easier to use and much more powerful 🥳
It supports:
All mobile browsers: Mobile Safari, Chrome Mobile, Firefox Mobile…
24+ news apps: NYTimes, BBC News, The Guardian…
8+ aggregator apps: Apple News, Flipboard, Inoreader, Feedly…
TL, DR: it's easier to use and way more powerful.
You can download it here:


Here is a quick demo: How to send a news article from Apple News to Kindle
🤓 Newsletter improvement: route all newsletters to your personal Magazines
You speak, I listen.
I've added the ability to route newsletters to your Daily Read or Weekly Read.
Go to KTool Newsletter Setting page to update yours, or reply to this email and I will happy to do it for you. You can now import multiple articles into your personal magazine.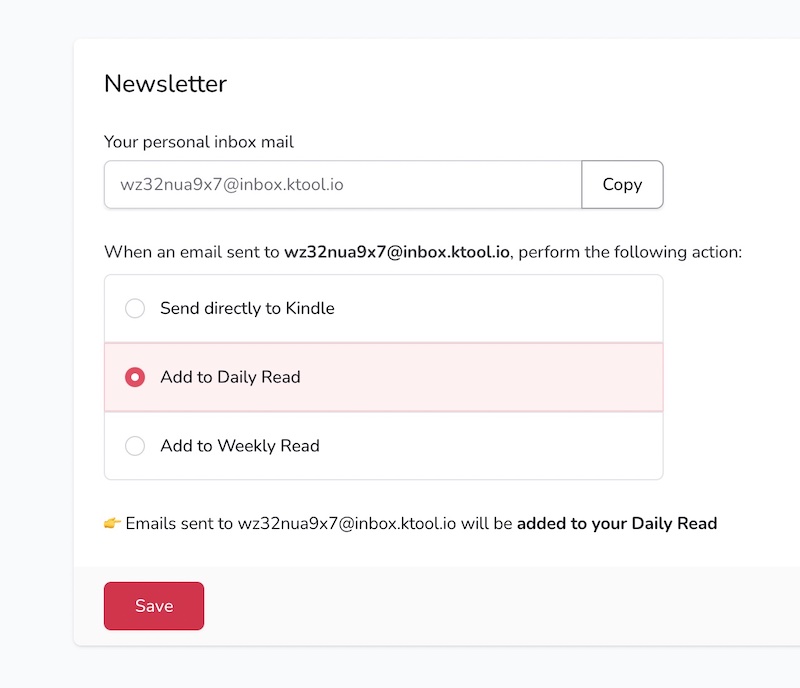 🔭 The KTool Roadmap
I started KTool because I wanted a better way to consume online content: less eyestrain, and more focus.
KTool does a great job as a Kindle tool: superior conversion quality, the best UI/UX compared to other alternatives, and certainly the best customer support.
But after talking to you all, it's clear to me that reading is only one part of the bigger problem. We all wanted to be smarter, learn faster, and produce more content from what we consume.
I'm committed to building KTool as a platform to build your second brain, with first-class support for Kindle (sorry for the jargon, I'm not sure what to call it yet)
What does it mean in terms of features? Here are a few feature ideas in the roadmap.
Add supports for RSS (in development, release soon)
Personal Content Library: archive your content to your storage of choice, whether it's Dropbox, your personal email, or within KTool Content Manager
Full-text search: can't remember that interesting essay? You got it covered
I'm super excited about the future of KTool. Let me know your thoughts on this.
🧑‍🎓 One last thing: student discount
If you're a student, send an email to [email protected] from your university email address to enjoy a 50% permanent discount on any subscription plan.
👋 That's all for now
Let me know your thoughts on this update; if you have any questions, please don't hesitate to reach out!
Best,
Daniel